Do you want to go on holiday but don't leave your four legged friend behind?
We welcome pet owners with amicable and well behaved pets.
Whether you own a holiday home on one of our parks, are visiting us in your tourer, or staying in our self-catering properties, at Discover Parks you can bring all of the family to our dog friendly holiday parks in Herefordshire and Wales.
We have pet friendly static caravans and cottages to rent at Pearl Lake, or timber lodges to rent at Arrow Bank and a static caravan to rent at Rockbridge. As well as this, all of our touring parks are pet friendly.
Although your dog will need to be kept on a lead whilst on the park itself, each park does have an enclosed dog walking field and there are a wide choice of local walks where you can exercise your dog. All parks are surrounded by countryside with walks aplenty. Arrow Bank has open fields surrounding the park with cut grass footpaths, Pearl Lake has 20 acres of woodland walks as well as direct access to surrounding footpaths, Rockbridge has a lovely country wander in to nearby Presteigne.
Several local attractions, cafés and pubs also welcome dogs which means your dog can join you whenever you want to enjoy a family day out.
Dog Wash - an amazing feature!
Each of our 5 star caravan holiday parks has a dog wash. A dedicated space just to pamper your pooch.
No need to worry about those mucky paws messing up the caravan, or a rain shower spoiling your day, or having to spend the evening with that unique wet dog smell!
A hot shower (temperature controlled so as not to burn your pet) over a raised shower base so you don't have to bend over or strain your back. We even have steps so that you don't have to lift your dog into the shower. A large, easy to clean, plug hole and a gentle gradient to drain away the water all make for a great experience for you and you dogs.
When you have finished and your hound has taken the opportunity to shake itself over you (obviously) we even have a hair dryer (again temperature controlled) to get them dry and keep them comfortable.
We are proud of our dog washes, we hope you like them too.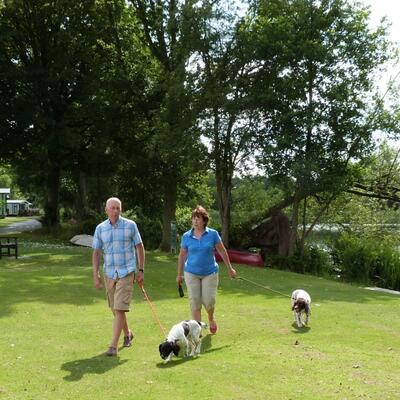 Dog Walks
Walk on the parks
Enclosed dog runs
Open fields
Woodland walks
Safe spaces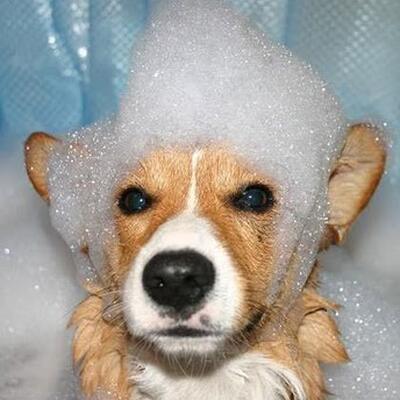 Dog Wash
Warm shower
Raised platform
Hair dryer
Spacious
Great feature
Dog friendly
Bring your dog
Local pubs and cafes
Extensive walks
Lakeside bar bistro
Visiting dog groomer
Pet Rules
Ok, I guess you think there is some catch? So everyone can enjoy the parks we try to keep some guidelines in place, so here we go:
We go to great lengths to ensure that everyone who stays with us enjoys a clean, fresh environment, and we always clean our accommodation and public areas more thoroughly after pets have visited. There are obvious challenges to this, and we ask that pet owners help us to maintain our high standards for the next guest by following our guidelines:
You may only have 2 dogs (other than any of the breeds subject to the Dangerous Dog Act 1991).
We understand dogs bark, particularly in the presence of other dogs. We would prefer dogs who are particularly agitated or excitable to be taken outside to burn off some energy, so that other customers are not unduly disturbed (we will trust your judgement as dog owners on this). There is no total ban on barking but we'd like to keep it from ruining the relaxed atmosphere in the park.
We request that pet owners bring pet bedding to protect our bedroom carpets and soft furnishings. Please do not allow pets to sleep on the beds.
All the usual rules around dogs in the countryside apply - please observe the countryside code, keep dogs on a lead around livestock, and please ensure waste is removed from public areas and disposed of safely. There are a number of waste bins around the park.
All pets must be supervised by and under the control of you, or of a responsible adult in your party, at all times. This means you may not leave any pet or animal unsupervised in the caravan or anywhere on the park at any time. Nor may you leave any pet or animal under the supervision of any person aged under 18. These rules apply even if the pet or animal knows the park well and you believe them to be well-behaved.
If you do not supervise and control any pet or animal, we are likely to ask you to remove it from the park straight away. This is because we cannot allow the safety of others to be put at risk.
If you see another pet or animal anywhere on the park which does not appear to be supervised by and under the control of a responsible adult, or whose behaviour gives a cause for concern, please let us know.
Pleaset keep dogs under control at all times on the park.
Nothing in these Pet Rules prevents you or any member of your party from bringing an assistance dog to the park, or from using the dog exactly as at home.
We thank you for your co-operation and look forward to seeing you and your dogs at Discover Parks soon.
I love the large dog walk area as you can let them off for a good run