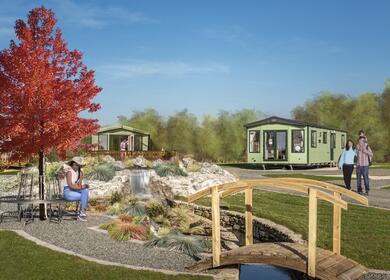 Pearl Lake doesn't have any...
Rockbridge has one...
Arrow Bank now has two!
The second phase at Meadow View is now complete with a water feature, meandering stream and footbridge to cross between shores. Once it has matured and the maple tree in full 'bloom' it will look nothing short of spectacular. (Artists impression - left)
Come and see it. Listen to the water idly caressing the rocks as the skylarks play a tune in the windmills of your mind...
We still have a few plots available - the choice is yours.